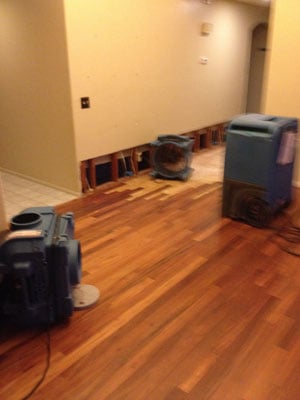 When you think of water damage in a home, the first image that comes to mind is usually a flooded basement. While basements are the most vulnerable to moisture exposure because of foundation issues, water damage can occur anywhere. One of the most prized possessions that we hate to see affected are hardwood floors. Is water exposure in hardwood-floored rooms a death sentence to these prized flooring types?
eOur team of technicians have worked on water-logged hardwoods throughout Chula Vista, El Cajon, Encinitas, Imperial Beach, La Mesa, La Jolla, Lemon Grove, National City, Rancho Bernardo, Poway, and Santee.  Call us if you need help.  (619) 469-8955   Christian Brothers Restoration
Quickness Is Key
How fast the water is removed from the flooded area directly affects the reclaiming process of your hardwood floors. A water removal company (like Cutting Edge) should be called immediately as treatment needs to begin ASAP. The most common threat to the hardwood is warping from the water. However, an underlying danger of mold growing in the grains is an even bigger worry. If there is one good thing about hardwood floor water damage, it is that it's usually from house plumbing which is much cleaner than rain and outside flooding.
How We Save the Wood
Our first plan of attack is to remove the water from the hardwood with dehumidifiers, blowers, fans, and other drying equipment. We constantly monitor the moisture levels in the boards and are vigilant for any signs of mold growth. Sometimes boards must be removed as the boards shift and turn as their internal makeup changes and more often than not, the planks have to be stained and refinished in at least a portion of the floor.
When to Pull the Plug
Depending on the water source and length of exposure, there are times when the floor just cannot be saved. Fortunately, you can still make use of the damaged floor with a number of reclaimed wood projects such as shelving, furniture, an accent wall, or any of the other ideas found on online craft sites. The best thing about working with Christian Brothers Restoration is that we're there every step of the way from disabling the water source, removing the moisture, and installing new floor if needed.