24/7 Fire and Smoke Damage Restoration Service San Diego County
Christian Brothers Restoration understands that damage to your home from fire can be devastating. We strive to restore your home to an even better condition than before. Fire and smoke damage come in many forms and it takes someone you can trust to understand how to not only restore, but eliminate smoke from your house. The smoke produced by these different type of fires i.e. wet smoke, dry smoke, protein based smoke, or the remnants of oil, fuel, or soot are the main problem of fire damage. At Christian Brothers Cleaning and Restoration we understand the importance of having a specialized expert that can assess what type of damage has occurred and use the proper restoration techniques to ensure the fire damage is repaired and cleaned properly. We will provide the highest quality fire damage restoration in the most time efficient and cost effective manner for all of San Diego and North County.
After comprehensive inspection of the property, our fire restoration repair team can start the cleaning of the damaged areas/items and get rid of the smoke damage. They can in addition repair water damage accumulated during the process of extinguishing the fire. Finding the appropriate services for such tasks could definitely make a significant difference in recuperating the most from a fire damaged property. It also takes a certain level of expertise to completely determine and understand which areas of the property and precisely what possessions are actually still functional and operational. Only the most professional and experienced fire restoration service companies are also competent to identify the strategy to be used for cleaning and restoring each and every area of the property, ensuring to successfully save as much of the property and items as possible.
Fire and smoke damage is a very particular problem and requires more work than just simply washing down surfaces. Smoke gets heavily into hard surfaces such as floors and walls and if it's not dealt with immediately, will linger for many years no matter how often you clean them.
---
Services
Fire cleanup
Hazardous materials disposal
Repair and Replacement of Structural Components
24-hour a day emergency service 619-469-8955
GREEN fire damage cleaning
Dry-ice blasting
Deodorizing to remove odors
Decontamination from fire toxins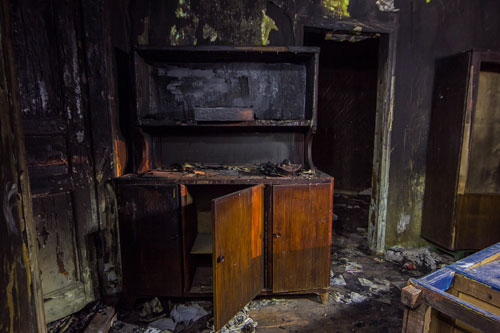 Fire Damage
In case of a fire, the number one factor is the safety and security of you and your family. The next big step is to control the fire and then to start planning the fire damage restoration once everyone's safe and out of harm's reach. It is an extensive and dangerous job and should only be performed by qualified contractors who have had years of experience handling fire damage repairs. Fires cause irreplaceable destruction to household items, furniture, clothing, etc. They also result in a lot of damage to the property itself from walls, flooring, doors, windows, roofing, and to the support of the structure, whose durability is a must for the strength of the structure. A bigger aspect of fire damage restoration is involved with these repairs and that is why professional assistance and services must be employed to carry out fire damage repairs on your property.
Smoke Damage
Smoke further complicates the process of repairs. The damaged property has the tendency to produce and smolder smoke for days following the fire. This smoke not only harms the building, but it causes inconvenience to the people living around it. The smoke produced as a result of burning fire or extinguished fire never remains in one place. The smoke spreads out to cooler areas and upper floors. It also enters the ventilation system, air conditioning, plumbing and to other various areas of the building. Getting rid of the smell from the items that have been subjected to smoke is extremely difficult. Our fire damage repair division incorporates the cleanup of the smoke affected areas and items as well.
There are different kinds of smoke damage that can occur and it primarily depends on the type of smoke that was generated during the fire. For instance, wet smoke will result from a low heat fire and will leave a very pungent odor and very thick soot in the affected area. There are also other types of smoke like dry smoke, fuel, oil, and protein smoke that will need to be treated in an appropriate manner.
Our technicians can help you to avoid additional damage to your property and valuables. We will remove the water, smoke odor, and soot from your home and belongings (if possible). We will help restore your property to its initial, pre-fire condition. State-of-the-art equipment is used to restore your home and possessions, and our specialists can also eliminate the smoke and other offensive odors caused by fire. Ultimately, we will clean and sanitize your home to complete the restoration process.
Our Recent Fire & Smoke Damage Projects