24/7 Water Damage and Fire Damage Restoration Rancho Bernardo, California
Although life giving, water is equally destructive. If water is displaced in your business or home, you need to act fast. The costs of water damage repair rises significantly, as time passes. If ever you have the misfortune of water damage, call us. We'll get your Rancho Bernardo residence or business back to where it should be. We are Christian Brothers Restoration, experts in water damage restoration, mold removal, content restoration, and emergency restoration services. As a CleanTrust certified company, we've accumulated over 20 years of experience in the restoration industry. We take pride in providing unparalleled restoration services to the Rancho Bernardo community. Our fast response 24/7 professional service sets the standard in business.
Amazing Techniques
When dealing with a flood, our clients want the fastest and most thorough restoration possible. Christian Brothers gladly takes on that responsibility. We make concerted efforts to continually update ourselves so that we can provide consistently amazing service. Although speed is important, we never cut corners. All of our restoration techniques have been adopted to enable us to furnish our clients with the best possible restoration of their property.
Advanced Technologies
Technology has completely changed the effectiveness of restoration jobs. In the past, most building materials could not be restored to their original state. Restoration companies usually recommended customers to tear out nearly all material that had contact with water. Today that is not the case. We utilize advanced technologies like the Thermal Energy System (TES) that enables us to rapidly dry walls, carpets, and flooring. Similar technologies allow us to minimize water damage to the materials thus saving our clients thousands of dollars.
Christian Brothers Water Damage Restoration Services Include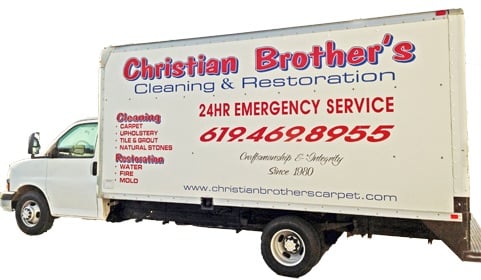 Free onsite inspection
State of the art equipment
Quick and powerful water Extraction
Powerful fan blowers
Mildew and Odor control
24 Hours emergency response
Flood pump and sewage backup cleanup
Deodorizing and Disinfection
Complete Sanitation work
Structure and content restoration
Direct billing to insurance company
---
Christian Brothers Restoration provides water damage removal, water damage restoration, structural dry out services to all Carlsbad, Chula Vista, Coronado, Del Mar, El Cajon, Encinitas, Escondido, Imperial Beach, La Mesa, Lemon Grove, National City, Oceanside, Poway, San Diego, San Marcos, Santee, Solana Beach, Vista CA with 24/7 fast response time.
At Christian Brothers Restoration client satisfaction is our top priority please take a moment to read our recommendation letters from individuals and businesses (click to enlarge)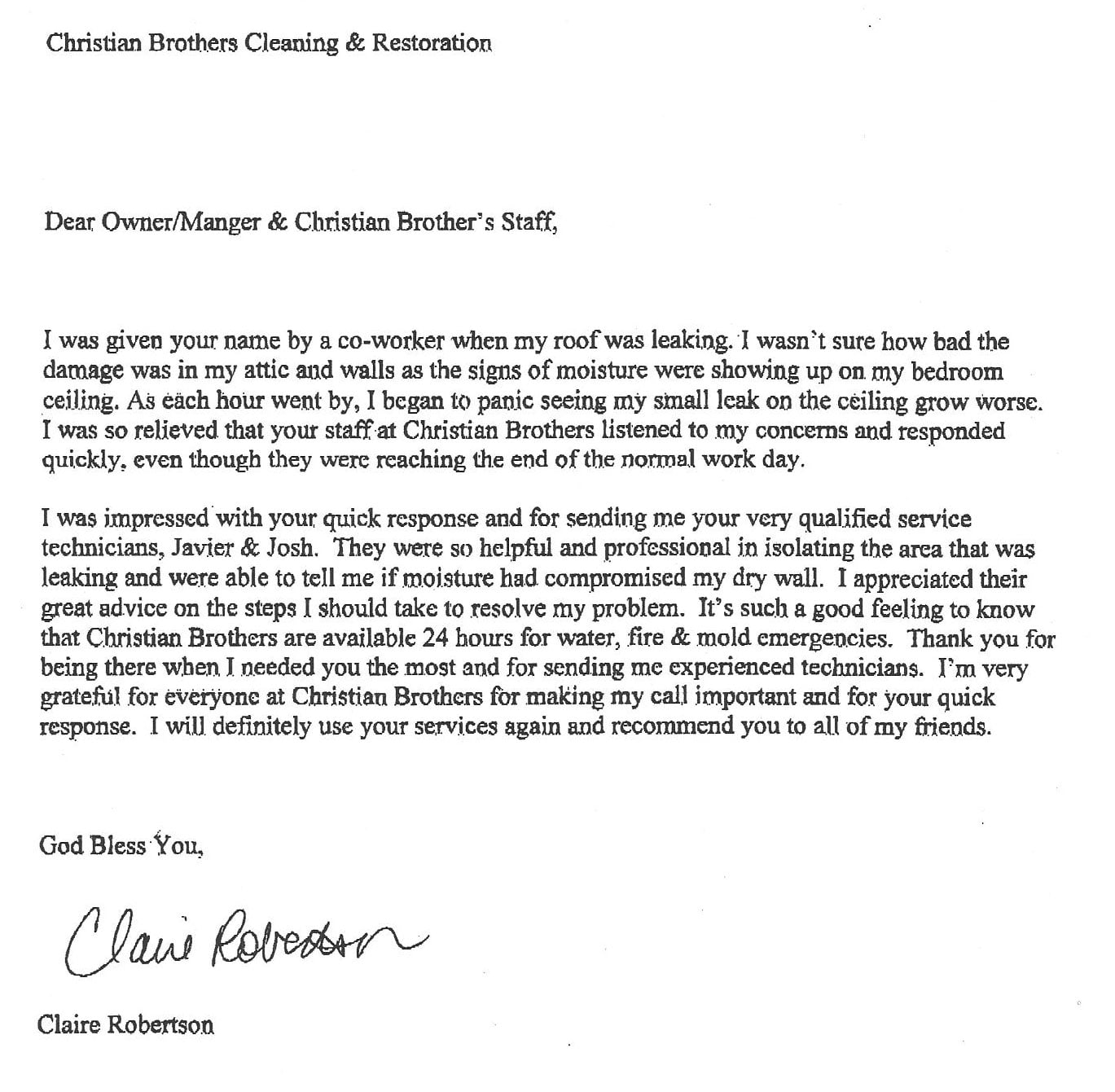 Christian Brothers is always just one call away.  If you experience a water damage problem and need professional restoration services, contact us. We will walk you through the process and get you the help you need.