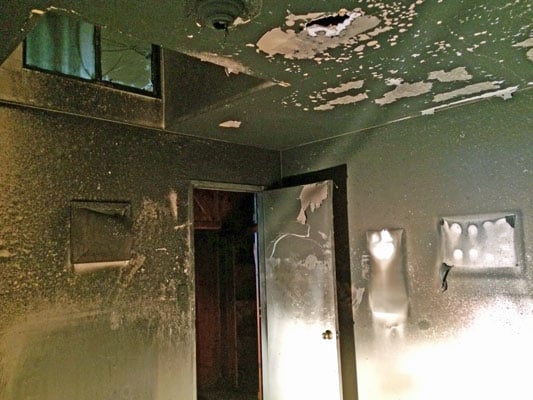 After a fire, most families and businesses are anxious to get back to their normal routine as soon as possible.  You probably feel the same way.  Once your home or business is cleared as structurally sound, Christian Brothers Restoration can offer professional assistance with the process of getting your place back to its pre-fire condition.  Our team has a but a strong reputation for reliable fire damage restorations in Chula Vista, El Cajon, Encinitas, Imperial Beach, La Mesa, La Jolla, Lemon Grove, National City, Rancho Bernardo, and Poway. (619) 469-8955
One challenge of fire restoration is the approach of restoring smoke damaged property.  Below are a few things you should know.
Types of Smoke Damage
There are different types of smoke damage.  We will access and determine which type or types your property has.  The three recognized categories of smoke damage are as follows:
Dry Smoke: Fast burning or high-temperature fires create dry smoke. This is one of the most common types of smoke damage.  Dry smoke is light and powdery.  Typically it is not difficult to clean.
Fuel Oil Smoke: As the name suggests, this type of smoke is the result of a fire burning due to a source of oil or fuel.  This smoke maintains a powerful odor and can render items in its proximity as permanently damaged.
Wet Smoke: Smoldering or low-temperature fires generate wet smoke. Although these type of fires generally has fewer flames, they produce much more smoke than high-temperature  Wet smoke is thick and very difficult to clean.
Have you suffered from a fire and need immediate fire damage restoration?  Give Christian Brothers Restoration a call.  We can help you with your insurance claim while beginning the process of restoring your home or business today! (619) 469-8955