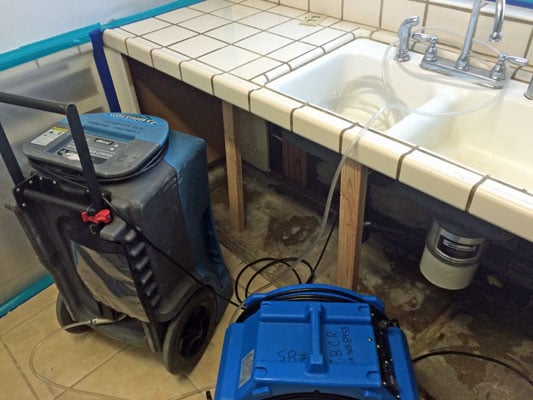 Water entering the home unexpectedly is never a good thing. For starters, the water is a nuisance to pump out and can cause serious damage to flooring, furniture, and other household items while being an electrical shock risk as well. Unfortunately the biggest risk of all might occur even well after the water has been siphoned out and the area looks back to normal – that's mold growth. Christian Brothers Restoration has assisted residences with water damage in Chula Vista, El Cajon, Encinitas, Imperial Beach, La Mesa, La Jolla, Lemon Grove, National City, Rancho Bernardo, and Poway.
Signs of Mold
Mold can be both physically viewable but also felt in your body. You can look for mold growth as black or brown spots where water was once present. These stains may look like dirt but can spread rather quickly and are most visible against unfinished white sheetrock. It's also important to be vigilant in spotting mold as it can grow in between grout lines in bathrooms where water and humidity is frequently present.
One of the reasons to be aware of the physical effects of mold is because it can grow behind walls, in ceilings, under rugs – a hidden danger. The physical tolls of mold on your body include a musty smell, difficulty breathing, a runny nose, watery eyes, and a sore throat.
Dangers of Mold
The reason mold must go through a remediation process after water exposure is because it can cause some long-term health effects if left untreated. The mold spores enter the air and clings to lungs, which is deadly to people who already suffer extreme allergies as well as infants and elderly persons.
How Experts Rid Your Home of Mold
Too many people think that spraying the infected mold area with a cleaner from a big-box hardware store alleviates their fungus problem. The truth is that does nothing more than conceal the problem, taking away the physical appearance of the mold but leaving in it's wake the dangerous spores that will still spread. Instead, in extreme water exposure the affected area needs to be cut away and disposed of separately while the air goes through remediation to remove all spore resins.
To determine if your water exposure is a significant risk or not, call Christian Brothers Restoration for an on the spot inspection. (619) 469-8955