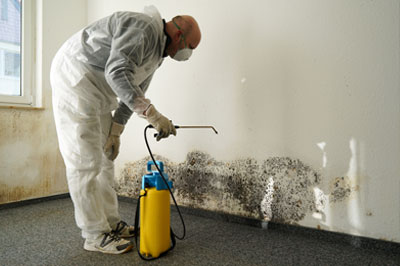 Water entering the home unexpectedly is never a good thing. For starters, water is a nuisance to pump out and can cause serious damage to flooring, furniture, and other household items.  Additionally, water can cause electrical damage and create shock risks. Nevertheless, the biggest risk of all occurs well after the water has been siphoned out and the area looks back to normal.  Most understand this to be mold.  If you are facing a mold problem now and need help with getting rid of it call Christian Brothers Restoration now.  Our team provides service to Chula Vista, El Cajon, Encinitas, Imperial Beach, La Jolla, La Mesa, Lemon Grove, National City, Rancho Bernardo, Poway, and Santee, California.  (619) 469-8955
Signs of Mold
Mold is quickly recognizable by sight.  However, it also gives off a quite distinguishable "musty" smell when it has matured.  You can usually find mold growth, like black or brown spots, where water was once present. These stains may look like dirt, but they spread rather quickly and are most visible against unfinished white sheetrock. One spot that mold growth often goes unnoticed is in between grout lines in bathrooms where water and humidity are frequently present. One of the reasons to be aware of the physical effects of mold is because it can be a hidden danger—quickly grow behind walls, in ceilings, under rugs.
Dangers of Mold
The physical effects of mold on your body are diverse including breathing difficulties, sinus irritations, eye infections and throat swelling.  If you already deal with ear, nose, or throat conditions, mold can amplify them.  When mold is left in a home, its inhabitants can suffer long-term health effects.
How Experts Get Rid Of Mold In Your Home
Many people believe that spraying mold with a household cleaner solves the problem. In reality, such cleaning does nothing more than conceal the problem. Professionals use a variety of proven mold remediation techniques that have been standardized by the IICRC.  At Christian Brothers Restoration, we couple these methods with advanced equipment specially made for water and mold remediation.
Do you need help with removing mold damage from your home or business?  Call us at your earliest convenience.  We'll walk you through our process and give you a quote. (619) 469-8955.