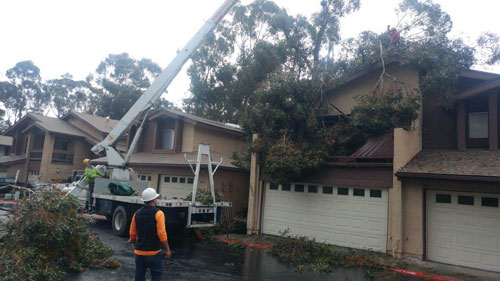 The saying 'It Never Rains In Southern California' is well known, but it is a misnomer.  Storms resulting in flooding and mudslides are becoming a reoccurring threat to residents.  Although you can prepare and mitigate damage to your property, sometimes circumstances beyond your control can necessitate the need for restoration services.  We hate to hear of our neighbors experiencing calamities after storms.  Hence, Chrisitan Brothers Emergency Building Services works hard to help homeowners and businesses to recover from storm damage.
Services To Help You Recover
Storm damage often results in a multitude of problems.  We offer services that cover all of damages caused by storms.  Here are some of the most common services our team handles.
Roof Tarping.  To prevent further water damage while your property is being repaired, we install roof tarps.  Tarping is especially necessary if your roof has received significant damage from things like falling branches, high wind, or hail.
Water Damage Recovery.  We have complete water damage services that include:
Item logging, removal & restoration
Drying & dehumidification
Complete repair & restoration of properties
Pack Out Services.  When major repairs are required, it may be necessary to move from the property while the repairs are occurring.  If you need to be relocated and have salvageable items stored, we can help with this.
Board Up Services.  To protect your property from weather or looters, boarding up entry points may be a good strategy.  We can provide this service before or after a storm.
Getting your home or business back to its normal state after natural disasters is what we do best.  For over 40 years, our team has assisted residents and businesses in Bonita, Chula Vista, Del Mar, El Cajon, Encinitas, Imperial Beach, La Jolla, La Mesa, Lemon Grove, National City, Rancho Bernardo, Poway, and Santee.
Christian Brothers Restoration
(619) 469-8955