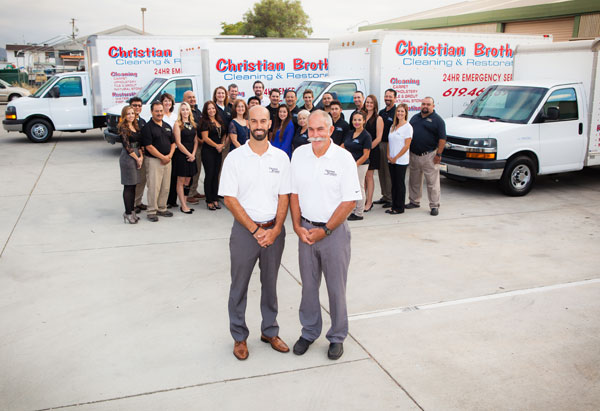 When disaster strikes, it is devastating. The shock of a water or fire event that damages your home can dampen your ability to assess and react. Christain Brothers Emergency Building Services of San Diego is there for you with just one phone call day or night. We are on call 24/7 to respond to, assess, and restore your property. Our technicians are licensed and trained to be experts in the fields of water damage removal, flood restoration, and fire damage repair. Whatever time disaster strikes, call Christain Brothers Emergency Building Services to begin salvaging your life.
Your First Call After 911
In the event of natural disaster water or fire damage, your first call should be to 911, but your second should be to Cutting Edge Restoration.  Although you may think that you want time to assess the situation yourself before calling for restorative services, this is a mistake. The consequences of a water or fire event go beneath the surface and can worsen with time if not treated right away. Circumstances can affect the stability of the structure and the health of those who visit the site.
Detecting Water Damage
Not all water damage is easily detected.  Leaks within the structure that otherwise seems sound can build up over time and remain undetected until they turn into a disaster. Prevent a disaster at your home by calling Christain Brothers Emergency Building Services to perform leak detection services.  Our technicians are equipped with the latest technology to detect leaks using both Electronic and Thermal Imaging techniques to ensure that all water damage is detected and treated before it is too late.
Fire Damage Repair
Fire is one of the scariest and most difficult home disasters to deal with.  We take the proper measures to ensure that as many of your items that can be salvaged are, and we protect them during the process of theft and further damage.  Once your home is triaged, we seal it off so that only our technicians have access. We work directly with your insurance company, to alleviate your burden, in identifying your items and sorting the salvageable from the unsalvageable. While in our care, your items are protected and restored so that they can be returned to you intact.
Flood Restoration
When water has damaged your home, Christain Brothers Emergency Building Servicesis prepared to respond.  On site, we will triage the damage and begin work so that you can move on.  We follow the same method for flood restoration as for fire damage repair so that you can be assured that your home was treated with respect and expertise.   Your home is protected while we work to restore your structure and items. Again, we work together with your insurance company throughout the process, providing all the documentation necessary to avoid any headaches for you. In addition, we use our water detection technology to ensure that no damage goes untreated, so that when you return home you can rest easy, knowing that the restoration was thorough and complete.
Christian Brothers Emergency Building Services
(619) 469-8955