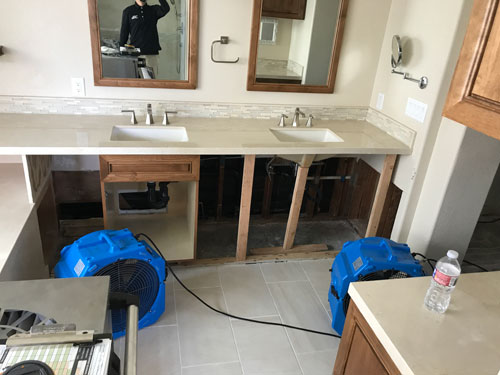 If you are experiencing water damage at your home, you are going to need a lot more than a bucket and a mop to clean up and save your investment. If you don't call in an emergency cleanup professional as quickly as possible, it could lead to dangerous consequences. The Institute of Inspection Cleaning and Restoration Certification (IICRC now Clean Trust) advises that every major water damage occurrence begin as soon as possible to prevent long-term damage to a structure.  Christian Brothers Emergency Building Services provides fast and reliable water damage restoration services to residential and commercial entities Bonita, Chula Vista, Del Mar, El Cajon, Encinitas, Imperial Beach, La Jolla, La Mesa, Lemon Grove, National City, Rancho Bernardo, Poway, and Santee.  Call us now if you need immediate help. (619) 469-8955
Growing Mold
If you don't get your home properly ventilated and dehumidified, you can experience serious mold growth. To prevent mold growth even at a later point, you need to eradicate any chances of problems later by adding anti-microbial agents. To determine which areas are more susceptible to spores, you need to call in a professional.
Wood Rot
You need to dry the area out to avoid wood rot. Other building materials can suffer damage as well. Laminate separates from the surface when exposed to water for long periods. Make sure all water is removed as quickly as possible to avoid worse damage.
Health Problems
There are well-documented health problems associated with the growth of mold. However, you should also consider the problems you may be facing because of the kind of water that damaged your home. While freshwater can cause enough damage, black or gray water can add some fungi, bacteria and dangerous microorganisms into the mix.
Water damage can be an expensive setback. Don't let secondary problems get into the mix. Call in professional restoration experts to take care of the problem and help you avoid other issues. Contact us today to learn more about our water damage restoration services and how we can help you avoid further damage from your water mishap.
Christian Brothers Restoration
(619) 469-8955