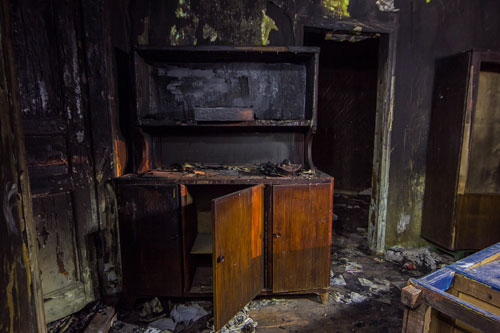 Unlike fire damage, smoke damage may not be immediately noticeable. But in severe cases, smoke damage can coat the entire interior of a building.
Many times, items recovered from burned homes that seem untouched are unusable due to soot residue. That's because a house fire releases noxious fumes and chemicals into the air.
As such, it's often unwise to keep severely smoke-damaged items. That said, it is possible to clean up after minor fires, especially damage-free ones.
How to Clean Smoke Damage
Cleaning smoke damage can be challenging, especially if your entire home is affected. And unfortunately, even if the smoke emanated from a single room, there's a good chance that your home's AC system has spread the fumes.
Before attempting to clean away any smoke damage, you'll want to file any applicable smoke insurance claims. After all, some items may be permanently lost due to excessive smoke and soot.
When tackling smoke damage, you'll want to work from the most affected areas to the least affected ones. However, if smoke has spread throughout your home or building, you'll likely want to hire a professional service.
However, it's entirely possible to clean small areas affected by minor smoke damage. You only need the right tools and know-how. Of course, it also helps to have a team of hard-working folks by your side.
Still, you can eliminate acute smoke damage by doing three key things:
Considering Your Target
Vacuuming and Wiping
Asking For Help
To remove minimal-to-moderate smoke damage, you'll first need to consider your target. Upholstered furniture, carpet, and kitchen countertops all react differently to cleaning chemicals.
If possible, always start with dry cleaning techniques and tools before moving on to water-based solutions. Vacuuming goes a long way, especially if you're working with a large surface area.
Getting rid of the foul smells may be the bigger problem. Still, baking soda does wonders in terms of soaking up bad odors and brightening surfaces. Just be sure to keep it dry until you've removed all the soot.
But even with the best cleaning products and tools, you might struggle to remove the signs of smoke damage from your property. To be perfectly honest, that's to be expected.
Instead of spending this upcoming weekend scrubbing and drying, let a team of technicians handle the task. Why stress out when you can schedule ahead? There's no reason not to choose a professional remediation service!
Choosing A Restoration Service
While fire damage is unmistakable, smoke damage can be far more insidious. When left untreated, it can stain your home's interior surfaces, including the flooring. It can also lead to worrisome health problems.
If you live in a home with pre-existing smoke damage from a fire or previous tenant, there's never been a better time to get cleaning. And should your best efforts fail, there's always professional smoke damage remediation!
If you're looking to remove smoke damage from your home or business, please contact us today!