DEAR VALUED & LOYAL CUSTOMER,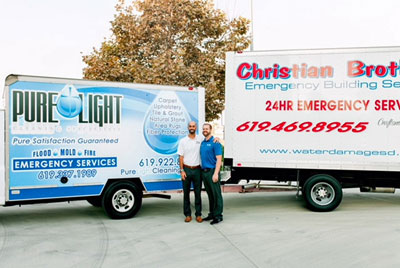 A lot has happened over the last few decades at Christian Brothers. After spending nearly 30 years in a 1,500 square foot location, we purchased an 11,000 square foot building in El Cajon in 2014 and by the grace of God, I was ultimately able to purchase my dream building in 2017– a 25,000 square foot facility in Lakeside.
During that time, I also purchased the business from my dad, Mark, when he was ready to retire as the CEO. What an adventure! This is where the story gets good, sad and exciting, all at the same time.
As the company was growing, the only thing lacking in attention was our carpet cleaning division. My passion and focus had shifted to the emergency water, fire and mold jobs, and I felt like I was robbing the cleaning crew (Martin, Victor and Marissa) of the growth opportunities they deserved. I sought advice from my mentors and Dad and made one of the hardest decisions of my life – letting go of the cleaning division. I was only going to do this if I knew that someone could take it over and have the love for it like my father did.
As many of you know, Cameron Stewart, who use to work for us, now runs his own cleaning company called Pure Light Cleaning Specialists. Cameron was not only an outstanding employee for 5 years, but has gone on to become a personal friend and a professional partner over the years. So when I approached him with the idea of taking over our cleaning division, he was thrilled at the opportunity.
EFFECTIVE NOVEMBER 1, Cameron and his wife Tasha, have added Martin, Victor and Marissa to their team at Pure Light. I ask that you continue to support them, and not take your business elsewhere, as all of Pure Light's technicians have been trained in the same methods, quality standards and exceptional service that you have come to expect over the years.
To all our clients that have gotten us to where we are today: I am truly blessed by you. My dad and I feel honored to have been a part of your lives and feel super blessed to pass this torch over to Cameron and his family. Warmly,
Gabe Matthews-CEO
Christian Brothers Cleaning & Restoration
P.S. Contact Marissa at Pure Light and as a Thank You she will hook you up with one of these offers- EXCLUSIVE to Christian Brothers Clients… CALL
619-631-4133 TO SCHEDULE YOUR NEXT CLEANING
Add any one of these 3 offers on your next service at no additional cost:
1) Add free protector to 3 rooms of your house  ($90 value)
2) Commercial-grade power vacuum your sofa or chair ($80 value)
3) Clean, seal & condition up to 6 linear feet of granite counter tops ($60 value)